Course details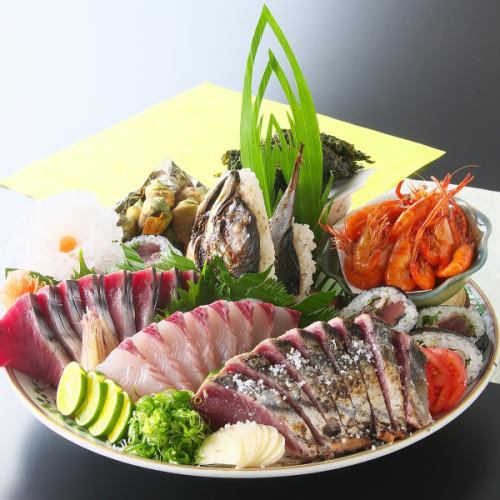 【Hospitable valued guests from outside the prefecture】 <Tosa Flower Basin Course> All-you-can-drink for 2 hours 7000 yen
Course which can enjoy delicious food dish using Kochi ingredients. Ideal for hospitality (※ photos are images)
Menu
◆ Three kinds of appetizers ...... Stir fry, sesame whale, bonito's hoe bake
◆ Tataki 3 species ... bonito, crucian, whale
Tataki dish pot
◆ Dish bowl soup ...... Deep-fried shrimp prawns
Boiled Maigo Beach, Chamera Kaizen
Deep-fried shrimp, bluish laver Tengoku Ra
Shimizu Musubi Sushi, Tosa Roll, Kaiseama Inari
Three sashimi selected carefully
◆ Calcinated ...... Nagataro roasted by Miyama Beach
◆ Small pot ...... Whale fish pot
◆ Sweetness ...... Tosa's ice cream, seasonal fruits
* There are changes in contents due to market purchase.
※ Please make a reservation by the day before.
☆ 5000 yen ~ Local dining courses with unlimited drinks too
☆ Pot dish serving 10000 yen ~ You can prepare.
☆ We are also preparing courses for celebrations and guests from outside the prefecture.
Reservation deadline

Coming up to 2 days before 21 o'clock in the desired date
2018/08/21 update