Course details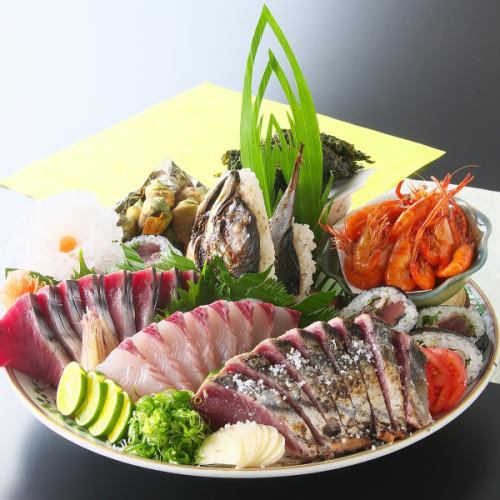 【Hospitable valued guests from outside the prefecture】 <Tosa Flower Basin Course> All-you-can-drink for 2 hours 7000 yen
4

-

170persons

All-you-can-drink available

All-you-can-drink beer, authentic shochu, cocktail, Japanese sake, Chu Hai 2 hours drinks!
Course which can enjoy delicious food dish using Kochi ingredients.Ideal for hospitality (※ photos are images)
Course menu
<Tosa Flow Concentration Course>
◆ Three kinds of appetizers ... Stir fry, squid whale, bonito hoe bake
◆ Three kinds of Tataki ... bonito, crucian, whale
Tataki dish pot
◆ Dishpod Soup ... Deep-fried Shrimp Shrimp
Boiled Maigo Beach, Chamera Kaizen
Fried chicken, bluish laver Tempura
Shimizu Musubi Sushi, Tosa Roll, Kaiseama Inari
Three sashimi selected carefully
◆ Calcined ... Chotaro Choyama bean grill
◆ Pottery ... Whale Crisp Pot
◆ Sweetness ... Tosa's ice cream, seasonal fruits
* There are changes in contents due to market purchase.
※ Please make a reservation by the day before.
☆ 5000 yen ~ Local dining courses with unlimited drinks too
☆ Pot dish serving 10000 yen ~ You can prepare.
☆ We are also preparing courses for celebrations and guests from outside the prefecture.
All-you-can-drink menu
·beer
· "Draft Beer" Asahi Super Dry (Medium) / Asahi Super Dry (Pitcher) "Beer" Asahi Super Dry Inner Bottle
· Fruit beer
· Pine beer / Muscat beer / Peach beer / Mango beer
· High Bow · Whiskey
· High Bowl / Cork High / Ginger High Ball / Shochu High Ball / Yuzu Yuzu High Ball / Whiskey (Water Round · Rock)
Tosa's representative sake
· Tosa Tsuru / Peon Peony
· Shochu
· [Potato] Satsuma White Wave / Black Kirishima / Red Kirishima [Wheat] Ichiba / Nikko / Midori [Others] Awamori: Kume Sen / Rice Shochu: Sencho / Shochu: Dabada Shi / Shiosu Shochu: Koishitan / : Mankoi
· Plum wine · Fruit sake
· Treasures of plum wine full / Yuzu sake / Pine sake / Momozu / Mangoese / Muscat sake
· Sour · Shochu High
· Lemon / plum / giant peak / lime / yuzu / calpis / mixed berry / raw grapefruit / apricot sake (soda lock) / litchi liquor (soda lock)
·Cocktail
· Pieron / fuzzy navel / cassis oolong / cassis orange / cassis soda / madharase / kalua milk / lucidum forest
·wine
· Almaden · Classic (red · white)
·Non-alcoholic
· Dry Zero (bottle 334ml) / Zero Chalk (Chardonnay Sparkling Taste · Cassis Orange) / Blume · Soda / Mixed Berry Flower
·Soft drink
Oolong tea / Calpis / ginger ale / cola / orange juice / warm tea
· Others
· Tomato sake · VSOP (water split · lock)
Reservation deadline

Two days before 21 o'clock on the desired shopping day
Available days for reservation

Monday - Sunday and holidays
2018/11/15 update